I follow a lot of blogs about crafting, decorating, and furniture refurbishing and thought it might be nice to share my top three blogs and the recent posts from each of those blogs that I like the most.
Miss Mustard Seed's Creative Blog
- I love Miss Mustard Seed's energy and creative style. Everything she does is beautiful and she shares the process with her readers.
Favorite Recent Post
-
French Chair Reveal, Glaze Mix, & Simple Upholstery
-I love that I now know how to do the finish on that French chair, I would have never guessed that she started with such a bold turquoise.
Second Favorite Recent Post
-
Furniture Feature Friday-Favorites and A Link Party
- I love that every Friday she does a link party for FURNITURE! All the other sites have link parties but none limit it to furniture - this one is the best of the web.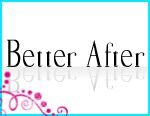 Better After
- This was the very first website I followed. I absolutely LOVE to see the amazing transformations.
Favorite Recent Post
-
Top 12 of 2010
- My very favorite project in this post is the one from March where the crafter transformed a rolling hand-truck into a beautiful coffee table. Second fav was the chair that was recovered in a orange print fabric.
Show & Tell
- This lady does some amazing work, not only repurposing furniture, but also building it from scratch.
Favorite Recent Post
-
My Version Of A Farmhouse Table
- You won't believe that she built a farmhouse table from reclaimed wood and did it INSIDE her house on her beautiful wood floors! Anyway, it's beautiful! Amazing!
So there you have it - my current top three favorite blogs. When I see a post from one of these sites in my blog reader and always click - maybe you should too!
Till later ~
Reba